Keith McNulty, current CEO of McNulty Nielsen Productions, (a full service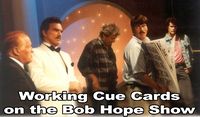 production company offering Camera, Lighting and Grip, Sound , 1,000 square foot stage, and Post Production Services) is the son of Barney McNulty, the "King of the Cue Cards" who invented the business of cue cards in 1948.Keith worked for his father from the age of twelve quite literally "growing up" on film sets. By the time he was eighteen Keith was handling most of Barney's new accounts.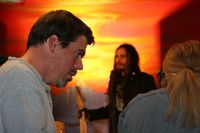 For for the next fifteen years, it was not unusual for Keith to be working on as many as four different productions in a single day - for such shows as
The Bob Hope USO Tour
(from 1978 to 1992),
Carol & Company
(Carol Burnett),
Murder She Wrote, Moonlighting, One Day at a Time, Alice, Fat Albert
,
Different Strokes, Too Close for Comfort, The Red Fox Show
,
Golden Girls
,
Days of our Lives, the Emmys
,
the Grammys
and thousands of other shows.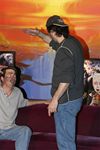 Together, Barney and Keith ran cue cards for many of the television & personal appearances for Orson Wells, Lucile Ball, George Burns, Burgess Merideth, Milton Berle and a host of others.

In 1989 Keith launched his own teleprompting business called, McNulty's Computer Prompting, and over the next fifteen years worked on t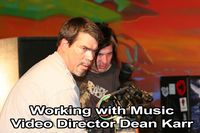 housands of projects ranging from A-List feature films, to TV series, music videos, concert tours, and live events. In 1995 lighting and sound services were added to Keith's company. His client list evolved into a who's who of Hollywood, with projects including Forest Gump, Apollo 13, Naked Gun, Grumpier Old Men, Wag the Dog, and the concert tours of Aerosmith and Van Halen. Keith also worked for Presidents Gerald Ford, George Bush I, and Ronald Reagan.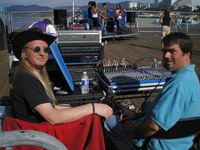 Starting in 1987, Keith owned a 16 track recording studio, and added live sound services in 1990. He has since worked as a production sound mixer on hundreds of projects, and runs live sound for many live events, specializing in producing live events with multi camera video shoots.
Keith is the DP of Spike TV's host wraps of it's 2 hour Saturday morning block of shows "Don't be a Victim" featuring host Gerald McRaney , and has also been DP of seqments of ABC's "Extreme Makeover Home Edition", Lifetime's "Drop Dead Divas among others
He has gaffed feature films including "Arc" starring Peter Faccinelli and Ken Howard, and television pilots "Mafioso" among others. Being the owner of a company that offers 1,2 and 3 ton lighting and grip trucks, Keith works with hundreds of DP's every year customizing lighting setups for big name music videos, feature films, television and a myriad of other projects. He is an expert on all lighting equipment, is very closely allied with many of the camera, sound and lighting companies in Los Angeles. He attends trade shows every year and has an intimate knowledge of lighting and grip and camera equipment, keeping up to date on all new products and the possibilities these products offer to add to production value.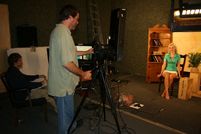 After 33 years of full time employment in the film business, it is cinematography that has become Keith's passion, he bought his first professional camera in 1990, and has filmed/dp'd hundreds of projects. With his long term involvement of the industry he has many professionals including camera operators, gaffers, key grips, sound mixers, editors etc that he works with on a regular basis.
Check www.mcnultynielsen.com for a current list of projects.